BioProNET early career research event 2016
September 6–7th Brighton Mercure Seafront Hotel

Many thanks to everyone who made this event a sucess!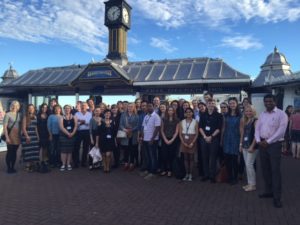 The programme for the 2016 event reflected feedback from delegates at last year's highly successful meeting; delegates said they wanted more time to focus on CVs, cover letters, being interviewed (and interviewing) and preparation for job applications, as well as presentation skills. The facilitators and presenters at this year's event had considerable experience of recruiting for bioprocessing- and indistrial biotechnology-related careers.
We were pleased to welcome Martin Popplewell and his team from Coconut Communications to this event to deliver the media training sessions. Martin has more than 25 years of experience working in journalism, including at the BBC, Sky News and ITN.
In the media training session, delegated worked in small groups (6 people) with a trainer in a practical session where they prepared for an interview, were interviewed and then received a personal review and critic of their performance.  They will have two interviews, allowing them to learn and improve, and they received receive a copy of their interviews and a booklet covering the theory of good media interviews.